Kelly & Warren
Hoping to Adopt
(Texas)
Letter
Our Story
---
It is hard to imagine that we've been together about half of our lives.
---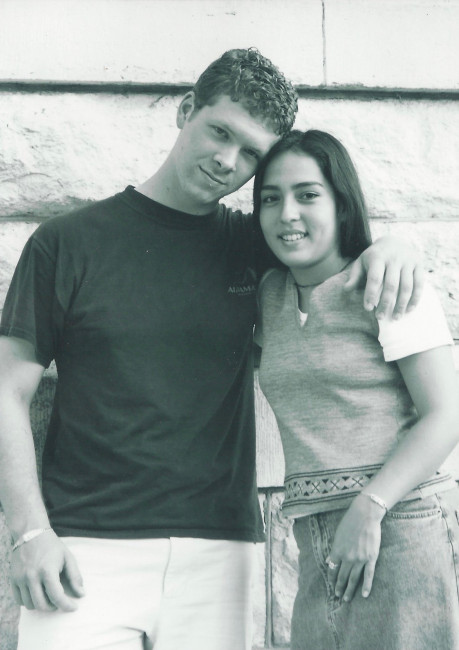 Our engagement photo
We were 16 and 17 when we met. Kelly came from Peru and was visiting her sister in Texas. We noticed each other at a few gatherings and started a friendship but by the end of Kelly's trip, we really wanted to pursue a long-distance relationship. We treasure our handwritten letters. Warren had a beautiful way of expressing his feelings. Kelly was initially more cautious and reserved and felt a little awkward since she was still learning a new language and writing in English was a little challenging. We dated long distance for three years before getting married. In these three years, Warren traveled to Peru three times and stayed for 2 weeks each time. Each trip was the highlight of our year. With every trip we fell more in love with each other. Warren won Kelly over with his genuine and loving personality, openness to Kelly's culture, family, and friends. Although Kelly had won Warren over "at first sight," he grew more in love with her personality and developed a closeness and friendship more than he could have ever imagined. On Kelly's one trip to the US during our time of dating, she realized she had found her home and true love when she stepped out of the plane and saw Warren waiting there for her. We got engaged on that trip to Texas in June 2000. Planning our wedding took a lot of patience since Kelly had to go back to Peru while her fianc? visa was being processed and approved. Warren had a lot of experience playing music at many weddings, so he was able to help with some local preparations. In the spring of 2001, we were married in Texas surrounded by hundreds of family and friends. That was more than 19 years ago. It is hard to imagine that we've been together about half of our lives.
Meet Kelly
---
Warren says Kelly is... Sincere, Creative, Contemplative, Open Minded, Wise, a Peacemaker, Compassionate, Intuitive, Strong in her Faith, Genuine, an Amazing Cook, an Amazing Mother and Wife.
---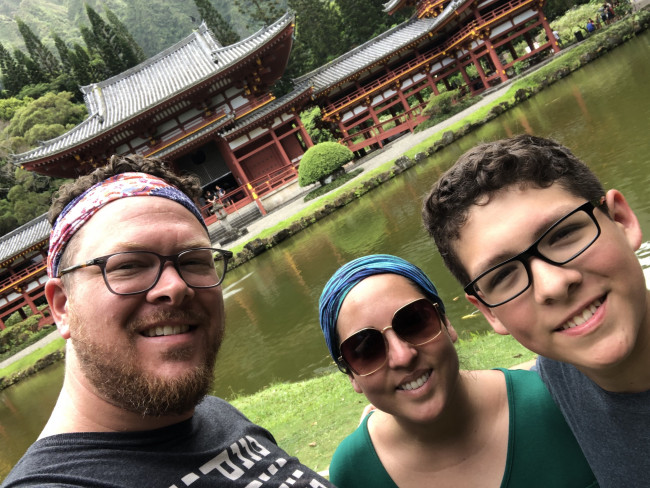 On a trip to Hawaii
Kelly grew up in Lima, Peru. She is bilingual. Warren taught her to drive when she came to Texas (teaching your spouse how to drive is not something Warren would recommend to anyone). She grew up watching Hollywood movies dubbed into Spanish, so it was shocking to listen to the actor's real voices once she moved to the US! With English as her second language, sometimes she mispronounces words or gets lyrics completely wrong on songs (she secretly enjoys changing the lyrics to drive Warren crazy). Kelly is a wise and prayerful woman who has a very close relationship with God. She enjoys participating in women's bible study groups and serves others with her talents. She loves being a mom and making memories as a family. She is currently working part-time at an elementary school but is looking forward to being a full-time mom once a baby comes.
Meet Warren
---
Kelly says Warren is... Loving, Musical, Devoted, Funny, Friendly, Creative, Extroverted, Kindhearted, Strong in his Faith, Compassionate with Youth Kids, Adventurous, a Coffee Nerd, an Infectious Laugher, a Great Dad and Husband.
---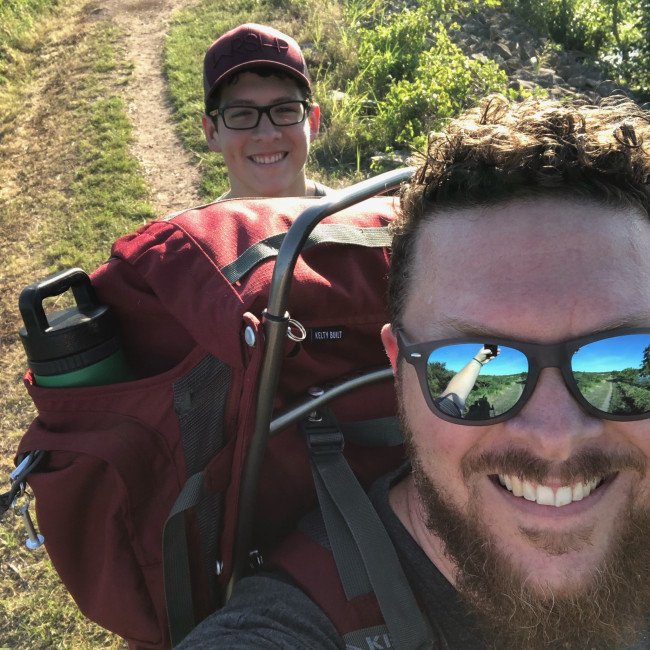 n 2019 Warren and Alek started a tradition of going backpacking the weekend before Thanksgiving every year.
There is not enough room here to list everything Warren does to crack us up with his humor and infectious laugh. One thing that stands out though... when he was a toddler, he used to get overwhelmed with being the center of attention so he would bite the carpet. Yep, you read that right! Warren can play at least 12 different musical instruments and loves being outdoors and backpacking for exercise. He makes an award winning "Skillet Apple Pie," and loves his mom's sweet iced tea. He is a devoted father and husband, and is intentional with his schedule - always making time for dates, family time, etc. He is also committed to serving in the church as a Worship Leader, but his favorite is being a volunteer Youth Leader and working with teenagers and youth.
Meet Alek
---
He will be a great big brother, mentor, and friend.
---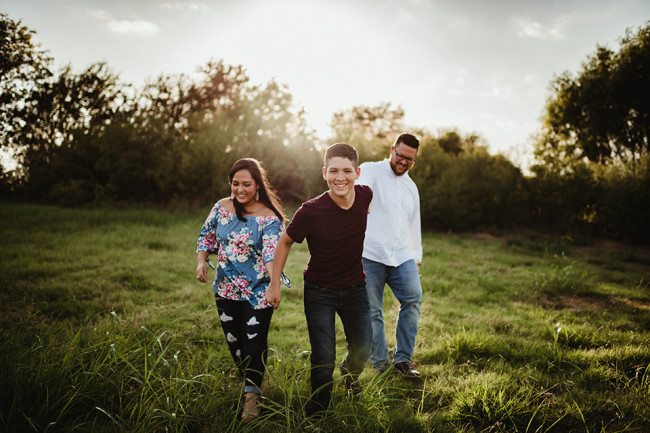 Thank you for reading about our family!
Alek is a very thoughtful and mature 14-year-old. He enjoys video games, especially Minecraft, football, band, Legos, and spending time with friends and family. As a family, we play a lot of board games and enjoy watching TV shows and movies together. Alek is also active in National Junior Honors Society as well as Lead Team, which is a leadership and bible study program at our church. Even at a very young age, Alek has always loved building things and has been aware of architecture. Warren recalls a time when Alek was 2 and they visited the zoo. That day there was a beautiful tiger staring at them literally inches away on the other side of the glass, and all Alek could think about were the steps. He kept pointing to the steps saying "teps, teps!" He will be a great big brother, mentor, and friend. In Alek's Words: "I am looking forward to this because I've never had a sibling before. I have a lot of cousins but having a brother or sister is much, much different. I have wanted a sibling and I'm looking forward to adding to our family." Our Promises We want to leave you with some assurances and promises that we know we can commit to: We will love our child with all our hearts. We promise to keep in touch with you on a mutually agreed upon arrangement. Our child will be surrounded and loved by our diverse support group of family and friends. Our child will be taught and encouraged to explore their heritage and cultural background, whatever that may be. Lastly, we want to thank you for taking the time to learn more about us. We want you to know that this profile is the real us. We are far from perfect; God has been gracious and merciful to us. It is only with His love and grace that we have made it this far and that is exactly how we intend to continue our journey here on Earth. We hope that this has been a genuine glimpse into our lives.